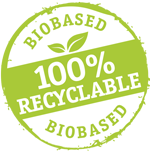 I'm green – Packaging made from the sustainable raw material sugar cane
I'm green packaging is recyclable, non-biodegradable plastic packaging, where 50-85% of industrial film packaging and at least 85% of carrier bags are made from the renewable raw material sugar cane.

Packaging from I'm green material is recyclable and reduces the impact on our environment with low CO2e emissions (e for equivalent). It inherits all features of conventional polyethylene and can be high quality printed in up to 10 colours.

You have numerous options – from simple line print to photo realistic imagery. I'm green packaging is certified to DIN CERTCO and I'm green carrier bags are certified by TÜV AUSTRIA and can be re-used many times.


Carrier bags

Film